Photo credit to (from top): The Malaysian Insider, prettysimplynormal.blogspot.my and travelpod.
Leading up to National Day, let's take a look at some of the iconic small businesses that add flavour to our country's personality; and the valuable lessons we can take away from them.
The Nasi Lemak Makcik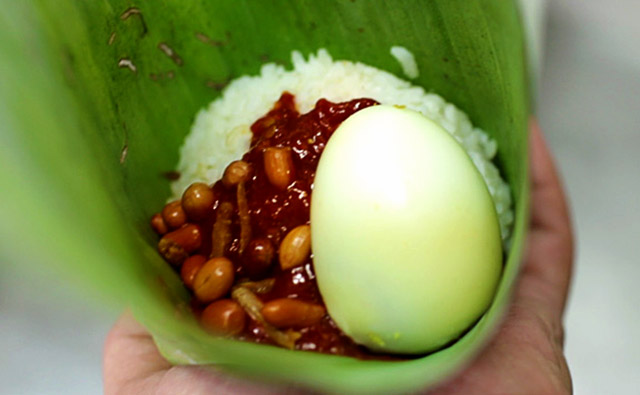 A tasty breakfast with eco-friendly packaging. Photo credit : friedchillies.com
Usually located under a shady tree, the nasi lemak makcik is the go-to person for an affordable and delicious breakfast. After all, who can resist the combination of fragrant rice, cucumber slices, egg, nuts, sambal, and ikan bilis — all wrapped in a banana leaf? And if you believe in eating like a king for breakfast, you can always tambah lauk and pile on ayam goreng, sotong sambal or rendang. Mmmmm…
Tapau this: Customisation and affordability. Quality options will give your customers a sense of what your business stands for. Pricing your goods according to your target market will also work in your favour. When customers walk away feeling loved, they'll remember the positive experience and come back for more!
The Susu Lembu Uncle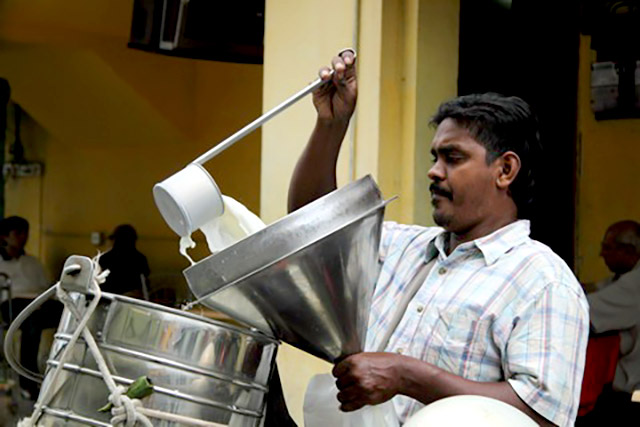 The ever-dependable milk delivery man. Photo credit: Penang365.com
Milk didn't always come from the supermarket. It used to be delivered in a large stainless steel container perched precariously on a kapchai, maneuvered by an affable uncle with an amazing sense of balance. The day starts really early for these milkmen of yore. They arrive at the farms at the crack of dawn to load up on a fresh supply of milk for the day's rounds. Any fresher and you'd have to milk the cow (or goat) yourself!
Tapau this: Convenience and trustworthiness. Nothing beats having the stuff you love delivered to your doorstep (Yay for online shopping!). Supplying quality goods also go a long way in winning your customers' trust.
The Flower Garland Aunty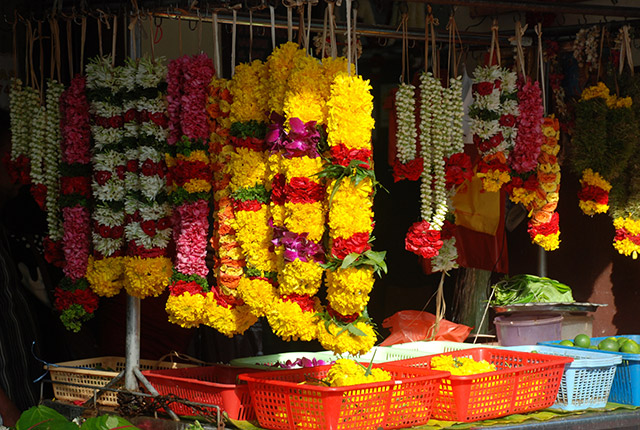 Fresh flower garlands hanging in a row. Photo credit: Poddpics
Wherever there's a temple, there'll be flower garland aunties stationed at its entrance. These colourful flower stalls emit an invigorating jasmine scent, a treat for devotees and unsuspecting pedestrians alike. These aunties are extremely deft with their fingers, stringing garland after garland with skill and finesse.
Tapau this: Location, location, location. If you have a brick and mortar business, being accessible to the majority of your customers can make a huge difference to your bottom line. For online businesses, accessibility is the new location. So keep your websites mobile-friendly and use only professional, reliable and trustworthy online shopping platforms with bank-level security.
The Kaki Lima Barber Uncle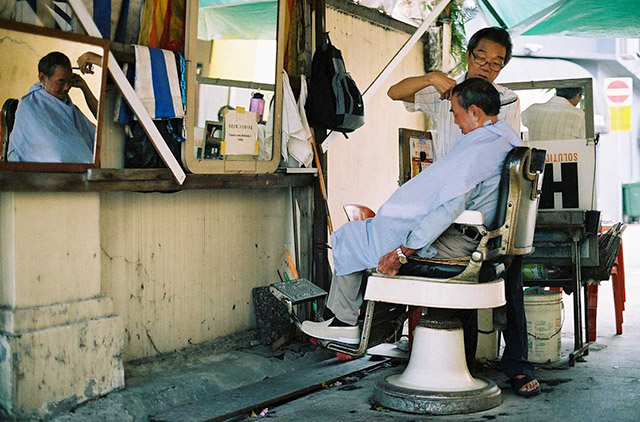 An experienced barber will have you looking smart in no time. Photo credit: evelyn
Street style takes on a literal interpretation with these alleyway barbers. Patrons can soak in the hustle and bustle of the city while getting a good haircut in a classic Takara reclining chair. On a slow day, one can spot these hardworking barbers sharpening their tools or listening to Chinese/Indian hit songs. Once a popular sight in big cities, alleyway barbers are now a rare breed, operating mainly in smaller towns like Bentong and Pulau Ketam.
Tapau this: Stay relevant. It is a competitive world out there. Your business may take a hit if you do not keep up with the times or enhance your offering to meet the needs of today's customers. Exploring new channels like e-commerce, mobile commerce and new payment methods may help you stay ahead of the game.
Street Cobbler Uncle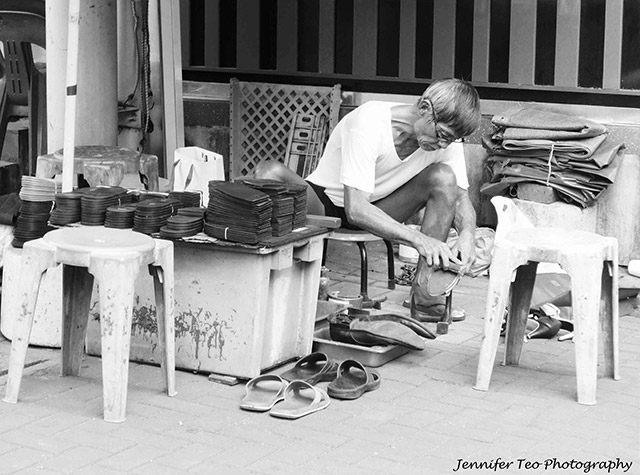 A little stitch here and there can breathe new life into your worn out shoes. Photo credit: Jennifer Teo Photography
"Cobbler, cobbler mend my shoe. Get it done by half past two…". If there's a trade that has longevity, it's the one that has a song written after it. Although handmade shoes are considered a luxury these days, one can still get hand-mended shoes at a reasonable price. These enterprising cobblers can also do more than just repairwork. They can add heels to your flats or anti-slip rubber soles to your prized slip-ons.
Tapau this: Know your value. If you have a skill or expertise that is in demand, build on it and market it well. Instead of being a jack-of-all-trades and master of none, be single-minded in your pitch and convince potential customers of your value. Simply put, a cobbler doesn't claim to be a fashion designer but he/she sure helps you achieve an instaworthy #ootd.
We hope you've learnt a little something from these pioneering small business owners (we sure did!). If you're a small business owner and would like to know how Shoppertise can be a platform to help you grow further,
sign up for our newsletter here.
Shoppertise is a mobile commerce platform that empowers small business owners with smarter, safer, and easier ways to sell their products and services online. This platform includes
Shoppertise Marketplace
(A curated marketplace with uniquely designed goods) and
Shoppertise Pocketbook
(An assistant to manage your small business).